From 90,00 €
1 hour par Quad, VAT included
145,00 €
2 hours par Quad, VAT included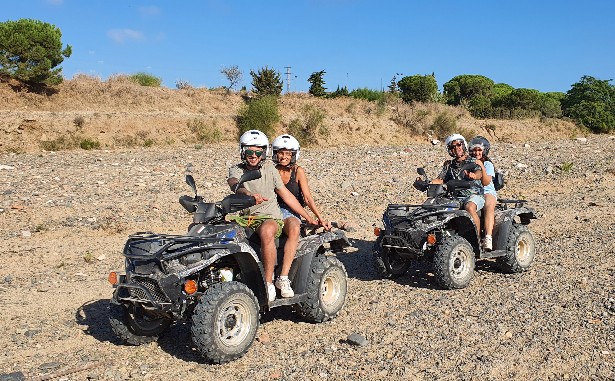 DESCRIPTION
Quad lovers can enjoy their hobby on small roads, forest trails and gravel tracks and explore the surroundings of Salou in all-terrain vehicles with a minimum displacement of 300cc. This means fun for the whole family, because with a class B driver's license you can ride an ATVS. Even if you plan such a tour with someone without a driver's license, this is not a problem, because a passenger can also get comfortable in the Quad. Even if you've never used a Quad yet, this tour is easy to manage.
Activities are also offered, if you want to combine the Quad with another hobby. For example, excursions such as via ferrata, canyoning or diving courses, for which a diving license is not always required, are a good idea for the summer months.


SERVICES
+
Guided Quad tour
+ Total duration 1 hour route or 2 hour route
+ Transfer included with our vehicles. If you want you can also come with your own car.


SCHEDULE
ROUTE OF 1 hour IN TWO SEAT QUAD
16:00h/18:00h/20:00h
according to availability.
(take advice)
(
90€
The price is per Quad. 2 people can go in a Quad)
We drive towards Cambrils, touring the surroundings of Salou. We travel dirt and asphalt roads.
ROUTE OF 2 hour IN TWO SEAT QUAD
1
1:30h
according to availability.
(
take advice
)
(145€ The price is per Quad. 2 people can go in a Quad)
Mont-Roig del camp area, Mare de Deu de la Roca Hermitage, from the 12th century .. These are places of incredible natural beauty and when reaching the peaks of the mountains you can enjoy excellent panoramic views.
30' minutes before we start to pick up the participants at the hotels in Salou
- Transfer to our camp in Salou (self-organized)
- End scheduled at the starting point


Drivers who have not ridden a Quad before must book our test drive first. Do not compare driving a Quad to driving a motorcycle, a Quad is not a balance vehicle and therefore has nothing in common with a motorcycle. Only the controls are similar to those of a motorcycle, but not the riding behavior! Physical effort is often underestimated by many drivers! Thumb gas requires hand strength, steering requires arm strength, and the chest and back muscles are also heavily used on longer rides.
A deposit of EUR 100.00 must be paid in cash!
Drivers must be at least 1.50m tall, be 18 years old and have a valid driver's license. Helmets are mandatory! Highway traffic regulations apply.


clothing suitable for the weather
- Your driving license


The vehicle cannot be used to organize a competition or to reach higher speeds.
The user guarantees to follow the instructions of those responsible for the tour both before and during the trip, refrain from any disproportionate or dangerous behavior and avoid any danger to others and themselves
.
The user also guarantees to comply with an absolute prohibition not to overtake during the tour, to drive only in the formation indicated by the guide, a safety distance of at least 20 meters to the Quad in front, drive in the lane specified by the guide , go around obstacles, around puddles or other shallows if possible or drive slowly, if necessary, stop and observe traffic rules at your own risk.

In case of rules violation, the driver can be excluded without claiming a refund
.


-
Hotel in which you are staying in Salou or contact to specify a meeting point.
- Address of the apartment or house, name and number of the street where they are housed.

Travellers' Choice Award
We are among the top 10% of the world's top attractions on Tripadvisor!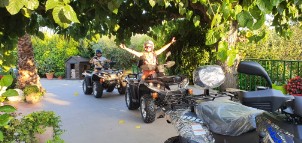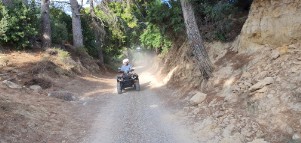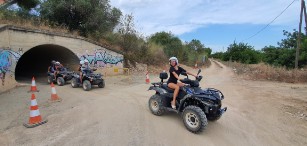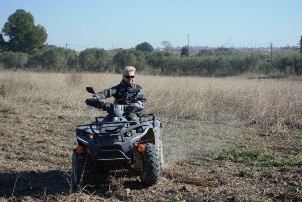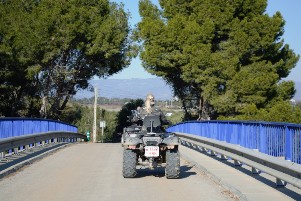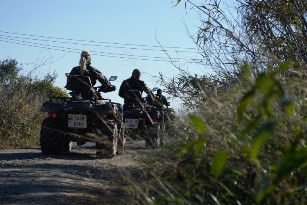 You may also be interested in
...