SCUBA DIVING
DIVING FOR BEGINNERS IN THE SEA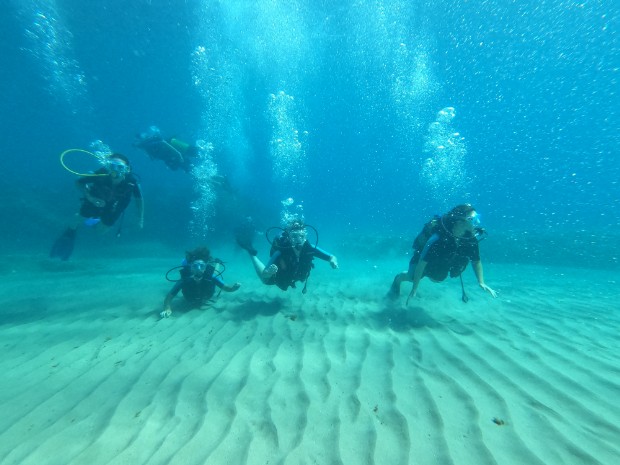 How can I get started in Diving?
During the Diving Baptism you will experience what it feels like for the first time to breathe underwater. This contact will help you to see if the underwater world is your world!


How deep are we going to dive?
After the theory, you practice diving at shallow depths and then we will do an underwater walk of between 5 and 12 meters.


What can I do to stop my ears from hurting?
Compensate about every half meter as you go down, before you feel pain or pressure, and especially in the first 10 meters. If you feel pain, go up a bit and try to compensate higher. If it doesn't work, repeat: go back up and try to compensate again. In some cases, you may have to almost reach the surface and start going down again.


Do TICKETS and vouchers expire if an appointment is canceled?
No, tickets and vouchers are still valid. If an appointment is canceled, an alternative date will be arranged.


You only need to bring a bathing suit, flip-flops, beach clothes, a towel and want to have fun !!


How big are the groups usually?

Between 4 participants for each dive monitor.


How long is the activity?

The activity usually lasts about 3 hours, including the assignment and transfer of the material. Time in the water is about 40 minutes to 1 hour.

Do I need prior knowledge?

No, the activity can be done without prior knowledge.


What if there is a storm during the tour?

If there is a storm, we will get out of the water. We will only continue our tour when the storm has passed and if the sea conditions allow it.


Are there drinks and food on site?

No, just us and the sea, you must bring soft drinks and snacks on your own.